a n a n s i w e b w o r k s v e r s i o n t w o

Anansi's Home | About Trinidad & Tobago | Caribbean Stuff | West Indies Cricket | Gender Issues
Ato Jabari Boldon | Brian Charles Lara | Trinbago Carnival 1999

(images of Carnival 1998 courtesy Trinidad Express photojournalists)

TRINBAGO CARNIVAL 1999
Schedule of "Official" Events
(note : "official" implies those Events that are officially sanctioned by the State-run National Carnival Commission and the Government-subsidised Special Interest Groups. This list does not include the hundreds of privately-run promotions, events, calypso tents and fetes/parties. This schedule is subject to change without notice.)
EVENT

VENUE

DATE

TIME

Opening of Kaiso Showcase
Palms Club, San Fernando
Wednesday 6th January
Opening of Kaiso Karavan
Arima Velodrome
Wednesday 13th January
Kaiso House Opening
Grand Stand,
Queen's Park Savannah
Friday 15th January
Junior Calypso Preliminaries - East
Arima Velodrome
Saturday 16th January
10:00 a.m.
Unattached Preliminaries
Soca Boat, Cruise Ship Complex, Wrightson Road, Port-of-Spain
Sunday 17th January
Junior Calypso Preliminaries - South
Palms Club, San Fernando
Sunday 17th January
10:00 a.m.
Opening of Klassis Ruso
Soca Boat
Tuesday 19th January
Junior Calypso Preliminaries - North
City Hall, Port-of-Spain
Saturday 23rd January
Second Song - Tent Singers
Soca Boat
Sunday 24th January
Launch of Panorama
Skinner Park, San Fernando
Sunday 24th January
2:00 p.m.
Junior Calypso Preliminaries - Tobago
Shaw Park, Tobago
Monday 25th January
10:00 a.m.
North Single Pan Bands Preliminary
Queen's Park Savannah
Thursday 28th January
7:00 p.m.
South/Central Preliminary & Zonal Finals
Skinner Park
Friday 29th January
7:00 p.m.
Rapso Explosion
Brian Lara Promenade, P.O.S.
Friday 29th January
East Preliminary & Zonal Finals
Trincity Expo Site
Saturday 30th January
2:00 p.m.
Junior Calypso Semi-finals
City Hall, P.O.S.
Saturday 30th January
10:00 a.m.
Second Song Unattached - South
Palms Club
Saturday 30th January
North Preliminary & Zonal Finals
Queen's Park Savannah
Sunday 31 January
2:00 p.m.
Tobago Calypso Semi-finals
Roxborough Complex
Sunday 31st January
Tobago Preliminary & Zonal Finals
Shaw Park, Tobago
Tuesday 2nd February
8:00 p.m.
Extempo Preliminaries
Deluxe Cinema, P.O.S.
Thursday 4th February
8:00 p.m.
Unattached (Calypso) Finals
The Greens, Piccadilly St., P.O.S.
Thursday 4th February
8:00 p.m.
Pan in the 21st Century - Conventional Bands
Trincity Expo Site
Friday 5th February
Calypso Fiesta (Calypso Monarch Semi-finals)
Skinner Park
Saturday 6th February
12:00 noon
Dance Rehearsal for Carnival King & Queen Preliminaries
Queen's Park Savannah
Saturday 6th February
7:00 p.m.
National Panorama Semi Finals - Conventional Bands
Queen's Park Savannah
Sunday 7th February
1:00 p.m.
Junior Calypso Finals
Queen's Park Savannah
Monday 8th February
10:00 a.m.
Dance Rehearsal for Carnival King & Queen Preliminaries
Queen's Park Savannah
Monday 8th February
7:00 p.m.
Carnival King & Queen Preliminaries
Queen's Park Savannah
Tuesday 9th February
8:00 p.m.
Individuals (Conventional & Traditional)
Victoria Square, P.O.S.
Wednesday 10th February
8:00 p.m.
Extempo and Limbo Finals
Queen's Park Savannah
Thursday 11th February
8:00 p.m.
South Carnival King & Queen Finals
Skinner Park
Thursday 11th February
8:00 p.m.
Carnival King & Queen Semi Finals : THE CHALLENGE
Queen's Park Savannah
Friday 12th February
8:00 p.m.
Junior Parade of Bands
Streets of Port of Spain and
Queen's Park Savannah
Saturday 13th February
National Panorama Finals - Conventional Bands
Queen's Park Savannah
Saturday 13th February
"NOSTALGIA" - Traditional Mas
Victoria Square, P.O.S.
Sunday 14th February
1:00 p.m.
Dimanche Gras with Calypso Finals and Carnival King & Queen Finals
Queen's Park Savannah
Sunday 14th February
8:00 p.m.
Down Memory Lane
City Hall, P.O.S.
Sunday 14th February
J'ouvert
Adam Smith Square and South Quay, P.O.S.
Monday 15th February
4:00 a.m.
J'ouvert Steelband "Bomb" Contest
Edward Street, P.O.S.
Monday 15th February
Parade of the Bands
Nationwide, especially in the streets of P.O.S. and at the Queen's Park Savannah
Monday 15th February
9:00 a.m.
Monday Nite Mas
Victoria Square, P.O.S.
Monday 15th February
Parade of the Bands
Nationwide, especially in the streets of P.O.S. and at the Queen's Park Savannah
Tuesday 16th February
8:00 a.m.
Berger Las Lap Steelband Contest
Harvard Roundabout, St. James
Tuesday 16th February
8:00 p.m.
Champs in Concert (Trinidad)
Queen's Park Savannah
Saturday 20th February
Champs in Concert (Tobago)
Shaw Park, Tobago
Saturday 27th February
---

FYI . FYI . FYI . FYI . FYI . FYI . FYI . FYI . FYI .

A BRIEF SOCIOLOGICAL HISTORY OF TRINBAGO CARNIVAL
(from "Cricket, Carnival and Street Culture" by Richard Burton, in Liberation Cricket : West Indies Cricket Culture, eds. Hilary McD Beckles and Brian Stoddart. Ian Randle Publishers : Kingston, 1995)

" . . . Before the abolition of slavery in 1834 it is clear that carnival in Trinidad was celebrated exclusively by the white elite, particularly the white French-speaking Roman Catholic elite, and some members of the coloured, again principally French-speaking and Catholic, middle-class : blacks, free and unfree, were present, if at all, only as spectators. After abolition, however, carnival was swiftly taken over by the now free black population. The whites who had hitherto dominated the street processions henceforth celebrated carnival 'behind closed doors' in their own home or in private ballrooms and theatres, leaving the streets to the mass of the population, and particularly to those members of the black lower classes known in nineteenth century Trinidad as 'badjohns' or 'jamets' from the French diametre, the 'other half', in other words the criminal or semi-criminal underworld. There are, it seems to me, very definite parallels between this 'take-over' of carnival by lower-class blacks in nineteenth century Trinidad and the similar, though more gradual, 'take-over' of cricket by black West Indians since 1900. As it was taken over by blacks, so carnival in Trinidad changed unmistakably in character. Before 1834, it appears to have been much the same kind of pre-Lenten festivity that it was in Roman Catholic societies throughout Europe and Latin America; after abolition, however, it clearly become a popular black festival of liberation with such rituals as the 'canboulay' (cannes brulees) procession at midnight on the Sunday of carnival celebrating in a veiled, symbolic form the deliverance of the black population from the yoke of slavery.

Not surprisingly, carnival in Trinidad, especially in the capital Port-of-Spain, was often an occasion of confrontation between, on the one hand, black revellers and masqueraders and, on the other, the forces of law and order, local policemen, and British soldiers alike. There were major clashes at carnival time in 1881 and 1883, leading to repeated attempts by the colonial government supported by the local elite to control the festivities and even to suppress them completely; a particularly target of official ire was the 'tambour-bamboo' bands from which the modern steel band is ultimately derived.

By the late nineteenth century, carnival had been to a large extent 'domesticated' and white and coloured Trinidadians who had shunned the street festivities for 60 years or more gradually began to venture out of their houses on the three days preceding Lent and tentatively and cautiously to mix once more with black revellers on the streets. At one level - what we might call the ideal or mythical level - all racial, social and political hostilities in Trinidad are supposedly suppressed and forgotten for the duration of carnival; normal divided, even antagonistic, the whole population, says the myth, comes together as one. Yet very often, in bringing normally distinct and distant groups of the population together, carnival serves only to highlight the differences and hostilities between them; as recently as 1970, at the time of the so-called 'February Revolution', major political, social and, to some extent, racial confrontations occurred in Trinidad at carnival time . . . "

" . . . The world of carnival is, as many writers on the theme have stressed, as negation or subversion of the structures, hierarchies and values that obtain in society during the rest of the year. Carnival is 'the world turned upside down', a make-believe counter-society over which the pauper or madman is king and the servant-girl queen, and it is noticeable in this respect how carnival societies in Trinidad - as, no doubt, elsewhere - have their own elaborate hierarchies of kings, queens, princes, princesses, dukes, captains and sergeants-at-arms, just as, one might further note, secret societies among slaves had their elected kings, queens, dauphins and dauphines. Even toady, Trinidadian calypsonians give themselves, or are given, mock-royal, mock-aristocratic or mock-heroic sobriquets such as Lord Kitchener, Mighty Sparrow, Lord Beginner, Black Stalin and Mighty Chalkdust (the nom de carnival of schoolteacher Hollis Liverpool) as though to underline carnival's symbolic subversion of the structures of everyday life. The last shall be the first, the first shall be last : during carnival, the popular imagination throws up its own hierarchies of prestige, achievement and charisma which, at every point, challenge and fictively negate the hierarchies and norms of established society."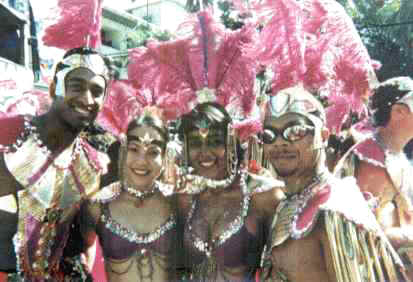 (photo courtesy Tracy F. Hackshaw)
Play mas' in these carnival bands with on-line service ! Visit their Web-sites now!
POISON (Funlovers Inc.) : 1999 presentation - "GALACTICA"

PETER MINSHALL & THE CALLALOO CO. : 1999 presentation - "THE LOST TRIBE"

HARTS' CARNIVAL INC. : 1999 presentation - "LOCAL MOTION"

BARBAROSSA : 1999 presentation - "JEWEL OF THE NILE"

LEGENDS (BIG MIKE, IAN & FRIENDS) : 1999 presentation - "DYNASTY"

FUNTASIA : 1999 presentation - "RIVERLIME"

WAYNE BERKELEY and MASQUERADE : 1999 presentation - "TRAPEZE"

DESERT RATS (J'ouvert and Monday Nite Mas')

* Visit the National Carnival Commission's Official Site
(Note : This site does not appear to be updated regularly - You may check www.visittnt.com or www.tidco.co.tt for better and more regular "official" info.)
Anansi's Home | About Trinidad & Tobago | Caribbean Stuff | West Indies Cricket | Gender Issues
Ato Jabari Boldon | Brian Charles Lara | Trinbago Carnival 1999
Contact us :
Voice/Fax : 1-868-662-6883
E-Mail : anansiweb@usa.net

Sign Our Guestbook


View Our Guestbook
Copyright (c) 1998, 1999 Anansi Web Works
All Rights Reserved.
This page was last updated January 10, 1999.